Hydnefossen

Hydnefossen is the great classic in Hemsedal first climbed in 1979 by Marius Morstad og Choe Brooks. It is one of the more known and respected ice climbes in Norway, for good reasons. Grade WI 5-6 depending on the choice of line (more details below). The center line is benchmark WI5, but Hydnefossen is well-known for its often challenging conditions in which case it is a hard tick for the grade. The best approach is usually to start in the frozen creek straight underneath Hydnefossen, and then follow one of its sides higher up. One and a half hour in good conditions, but possibly much more depending on snow conditions. The safest descent is probably to abseil down with ablakovs (v-threads). Only exposed to morning sun, and good conditions until easters is not unusual!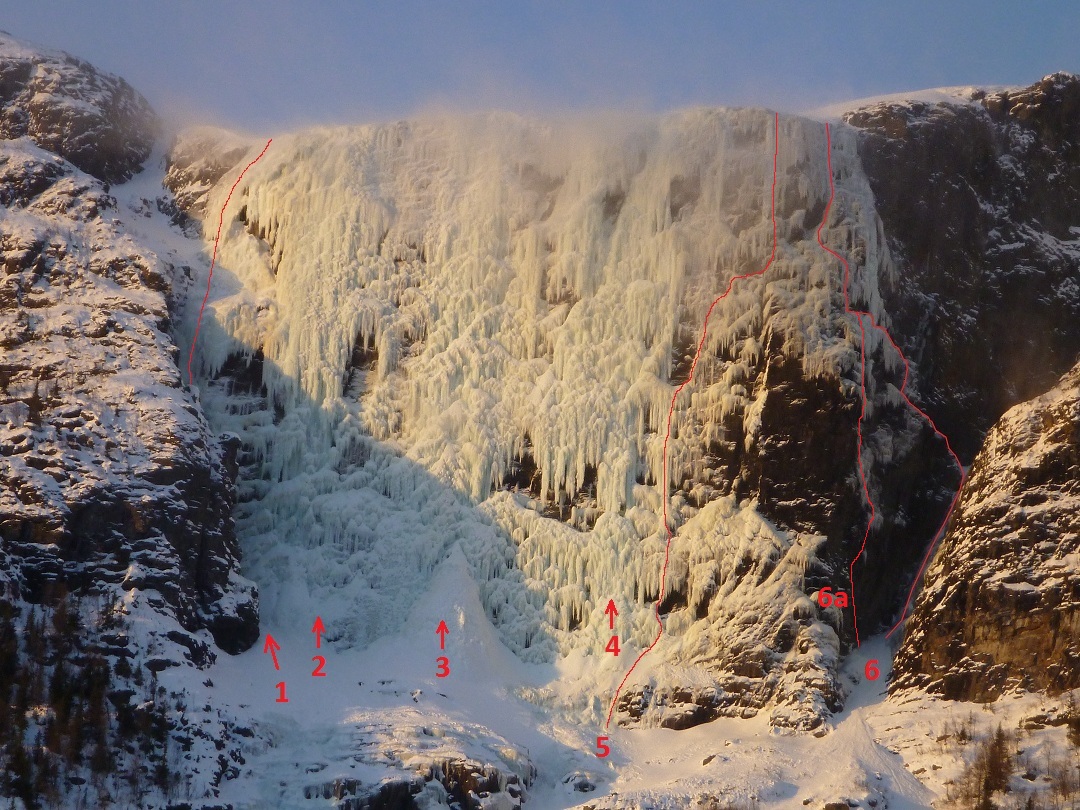 1: Hydnefossen far left. This line can sometimes provide a less challenging alternative to the other lines on Hydnefossen. The first 50 m. pitch is sustained, while the upper two are easier. Thanks to Erik Sandelin for this information.
2: Hydnefossen left. A popular and steeper alternative to the center line.
3: Hydnefossen center. Grade WI 5. Challenging under poor conditions. Probably the most climbed line on Hydnefossen. The midle third part is the steepest part.
4: Hydnefossen right. Usually significantly thiner then the left and center line.
5: Hydnefossen far right. A thin and challenging alternative variation, grade WI 6. Climbed at least a few times. Check photo-albume .
6a: Lithium Direct. A crazy direct start to Lithium on a wildly overhanging wall. Estimated grade WI 6-7. No reported ascents so far. As all mountain routes the project is open, of course, but drilled bolts are not accepted.
6: Lithium. Adventurous climbing. For more details check the topo and the photo-albume .

Back


See full customizable map (external link).